Search results on travel sites: examples and best practices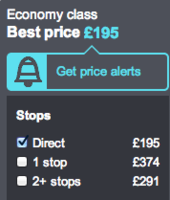 Search results pages on travel sites should help customers to find the best deal for them without having to work too hard.
Graham Charlton of Econsultancy looked at a range of search tools from travel websites, which highlighted the importance of flexibility when users search for travel.
For this review he is looking at flight search, but the lessons apply equally to hotel and general holiday search.
He argues that the challenge lies in effective filtering and sorting of results, as well as a presentation style that allows for easy comparison. It's not always easy though.
These are, according to him, the features of effective search results pages:
Ability to sort results. Users should be able to order results according to their own preferences. This may be price and duration of flights, departure times and more.
Presentation of results. The default display option should allow users to easily make sense of the information presented. Users should also have options to alter the display to suit their needs.
Filtering of results. Users need a good range of options to refine their results.
Speed. Results should load quickly, and adding and removing of filters should also be smooth.
Clarity of pricing. This isn't always easy for third party aggregator sites, but it can be very frustrating to see what looks to be a good price, only to find lots of extras added by the time you reach the checkout.
Quick link to change original search. Searches may produce a small number of results, or the user may not be satisfied, so make it easy for them to amend their search with a clear link.