Seeing the world from the East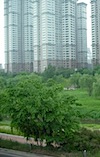 Last week I was in Seoul, South Korea. My third visit. And it struck me again how fast Asia, and South Korea in particular, is moving economically, and hence also in the design field.
Being in Seoul, you don't notice any crisis. Construction is everywhere. Growth is tangible. And change is fast. While last year, the city was grey and full of concrete, now the City Government, headed by a self-proclaimed "design obsessed" Mayor, has moved to fill every available space with trees and green. On a massive scale – Seoul's metropolitan area has 25 million inhabitants – it makes quite an impact and boosts the city's quality of life. Even bicycles and bike paths are starting to show up in this car-crazy city.
This rapid change will continue and as UX-designers we need to be aware of it. As Keoun "Ken" Nah (interview here), Director-General of Seoul World Design Capital and design management professor at Hongik University, told me over a glass of wine: "We have been giving design thinking courses to CEO's here and it has been very successful. We have a very smart class of CEO's . You tell them to read a book, and when you meet them again, they have read five." Ken by the way moved back to South Korea after a thirteen year stay in Boston, because he "missed Korea's more dynamic environment."
Koreans are learning fast and will add their own distinct approach to the design field. The problem they have is language. Not much of what goes on there in the design field is reported on in English language media, which tend to focus on the Western world, and the few other places where we understand the language: India, English and French speaking Africa.
Donald Norman is one of the user experience thought leaders who senses the power of this 50 million person nation and now spends quite some time teaching at KAIST, South Korea's top science and technology institute, where he is a visiting professor. Also the intenational acclaimed LIFT conference has been hosting a South Korean edition for a few years now.
Much can be expected still from this nation of Samsung, LG, Hyundai, Kia and Daewoo. More thoughts soon about Korea's design developments when I come back from the Busan Design Week in mid-November.