Striving and Surviving: exploring the lives of women at the Base of the Pyramid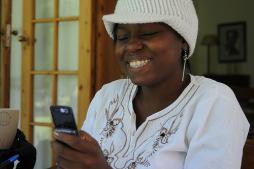 On International Women's Day, the GSMA mWomen Programme released a study called "Striving and Surviving – Exploring the Lives of Women at the Base of the Pyramid," reports MobileActive.org.
Drawn from 2,500 interviews with women (aged 16-64 in both rural and urban areas) living on less that $2 a day in Egypt, India, Papua New Guinea, and Uganda, the report looks at how mobile technology influences the way women approach health, economic development, and family relationships, and what mobile operators can do to reach more low-income women.
The report is divided into three parts; part one looks at the social, cultural, and economic factors that women at the base of the economic pyramid face in their daily lives, part two looks at the role of mobile technology in their lives, and part three looks at how technology can be used to further reach low-income women.
Some of the statistics pulled from the report show that when asked what the key benefits of mobile would be: [quoted from report]
80% reported being connected to friends and family
58% said it would be useful in an emergency
40% said it would cut down on travel time
15% believed it would help them feel secure
93% reported that mobile phones made them feel safer, while the same proportion particularly valued being connected to friends and family.
41% reported that owning a mobile had helped them increase their income or their professional prospects
85% of mobile owners reported a greater feeling of independence
The study found that despite general positive feelings toward mobile technology, there are many challenges to getting mobile technology into the hands of low-income women. Gender imbalances were a major issue, as although some women had access to mobile phones through friends or family, few owned their own mobile phone. Another major issue was technical ability, as "while 77% of BoP women have made a mobile phone call, only 37% have sent an SMS, regardless of literacy levels." Among women who were surveyed, 22% who reported not wanting a mobile phone said their reason was because they would not know how to use it.
Other concerns women listed for using mobile phones were a lack of regular access to electricity to keep the phone charged, concerns about theft, and concerns about ownership and usage costs. Furthermore, family pressure was a large influence on women's view of technology as the report states: "In addition to doubts about the cost/benefit analysis of mobile ownership, 64% of married women who do not wish to own handsets cited the disapproval of their husbands as a principle reason for not wanting to own a phone."
"Striving and Surviving" also examines how mobile operators can increase their outreach to women at the base of the pyramid by addressing women's concerns. By developing family plans and reaching out to male and female customers by highlighting security and family connectivity available through mobile technology, mobile operators can broaden their customer base while getting technology into the hands of women who need it.
An interesting aspect of the report is the Portraits series, a fictionalized account of eight women from the base of the pyramid who use mobile technology and explain how that technology fits into their everyday lives. The stories are interspersed throughout the final report, but are also collected in a separate paper called "Portraits: A Glimpse into the Lives of Women at the Base of the Pyramid."
Although the accounts are fictionalized, they are drawn from the research that went into creating "Striving and Surviving – Exploring the Lives of Women at the Base of the Pyramid." The reports look at the lives of everyday women and how they use and view mobile technology.
Because the data for the report is drawn from only four countries, the GSMA mWomen Programme has made all of the research tools used to create this report publicly available at www.mwomen.org to inspire further research.
– Executive summary
– Report download
– Portrait series
– Research tools