TEDGlobal: 'The democratisation of intimacy'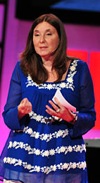 Anthropologist
Stefana Broadbent
says that modern communications aren't expanding our circle of friends but are strengthening our most important relationships, reports Kevin Anderson on The Guardian's PDA blog.
"Modern communications are not expanding our social circle, but anthropologist Stefana Broadbent says that mobile phones, instant messaging and social networking are actually strengthening our core relationships.

Research has shown that with instant messaging, if there are 100 people on your buddy list, you'll only chat with at most five people on your list. Eighty per cent of phone calls are to four people. With voice-over-internet service Skype, that number drops, with most people calling only two others."
Read more about the democratisation of intimacy on Broadbent's UsageWatch blog.