The huge challenge of Nokia's head of design and UX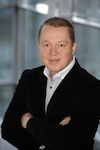 The acclaimed Italian journalist
Luca De Biase
recently interviewed
Marko Ahtisaari
(
blog
–
wikipedia
), Senior Vice President, Design and User Experience of Nokia, for the Italian business newspaper Il Sole 24 Ore.
Here is what happened these last few weeks: A warning by Nokia on second-quarter sales and profits, a recent fall in the Nokia share price, yesterday's news that Nokia runs a risk of being downgraded by S&P, and now the latest news that the iPhone is biting in Nokia's European markets. But not all is bad: Nokia is making some gains in less expensive smartphones. Yet in all, this surely creates huge pressure on Marko, who was recently brought back to Nokia after careers at Blyk and Dopplr, to radically improve Nokia's position in the high-end device market.
In view of this context, here is my translation of the story on Ahtisaari that was published in Italian:
Ahtisaari (Nokia): "My micro-sized social network"

Smart phones: After the blockbuster success of the iPhone, Nokia intends to write the sequel. Marko Ahtisaari, 41, was mandated to draft the screenplay. He first needs to to ask himself some basic questions: Who is the leader? The biggest or the most influential? Nokia or Apple?

Nokia's new head of design knows that this is the key question making the rounds since about three years ago the charismatic Steve Jobs crossed the road which was once so securely in the hands of the Finnish phone giant. The question remains open, as Nokia continues to sell a dozen times more phones than Apple. But it only gains a fraction of the media attention. And of the market attention, as evidenced by the succession of iPhone imitations of the iPhone, launched by competitors. Peter Drucker once said: "Management is doing things right. Leadership is doing the right thing." Now Marko Ahtisaari plans to come up with a surprising answer: a giant can do the right thing. Ma deve ribaltare parecchie abitudini. But he has to overturn many old habits, because the issue is no longer to sell good products, but to regain the cultural leadership.

How? By changing the game. "I will have to tear down some dogmas," says Ahtisaari, referring to the mobile phone world that now seems to only speak the language of Cupertino and Silicon Valley. "The leadership of Apple, Google, Facebook is American. We are a European company. And we have something to say."

Yeah. But what? The challenge is immense: Apple has managed to redefine the mobile phone business, making it into a complex whole that builds on design quality, simplicity and number of functions, emotional contents, and usefulness of online services. Apple has brought its experience with internet-connected computers to the world of mobile devices, and started a whole new market of applications, often produced by small software houses all over the world, that provide the iPhone with a breadth of functions that no one company could ever design. Apple captured a central strategic position that has displaced the other handset manufacturers, has generated an earthquake in electronic commerce, and has even created problems for the operators.

Nokia has the opportunity to play on a much wider field than that of Apple: it can serve the end of the market that wants a good phone that is not too smart; can offer smartphones with all crucial functions at the lowest price on the market; but also has to play at the high-end of expensive and attractive smartphones like the iPhone. It is the high-end market where cultural leadership is defined.

So Ahtisaari spends half his time thinking about how to redefine the relationship between mobile phones and their users. "As I look at people in the restaurant, I see them bending over on their phones, no longer paying attention to the other diners. I think there is something to improve here. The experience offered by the current smartphone is "immersive". It is persuasive technology, as BJ Fogg would have said. A phone that is controlled by touching the screen invites users to give all their attention to the device. "But for me it is more important that people can look each other into their eyes, and that the phone stays in its place." It is a generous starting point for a designer: moving the products out of the way to leave the centre stage to people. "This is consistent with our identity: Nokia is not lifestyle. Nokia serves and facilitates communication between people. Now we have to bring this concept to a new level."

Ahtisaari has all the fundamentals to move Nokia forward in the new millennium. His culture has been formed by a number of start-ups in the fast world of social networks. During the years when his father Martti worked with diplomatic patience in Kosovo, before being awarded the Nobel Peace Prize, Marko was CEO of Dopplr, a platform to share travel information. Now at Nokia he began by unifying the groups that deal with hardware and software design. And he works closely with the developers of online services, from Ovi – Nokia's application platform – to the group that develops mapping services, which is in a bit of a refresh these days after having been taken from Yahoo!. He knows where to play his next game.

"Advertising-based social networks have to concentrate all attention on themselves and tend to confuse the boundaries between the private network of friends and public communication. They must grow, always gaining new users who themselves also have an increasing number of connections – as one can see with Facebook. "We [at Nokia] will always be on the side of small groups that communicate. We focus on the relationships that develop within the circle of trusted friends and neighbours. And we have to serve this small circle with a mosaic of services that do not intrude with people, by making their lives public. We will always be on the side of privacy even if this would slow down the growth of the service."

In short, Ahtisaari's project seems clear. A new approach for a number of emerging needs in a world that is increasingly hyperconnected and distracted by today's smartphones. The implementation is still to be conceived. But already it is clear how right the questions are that Ahtisaari has raised and how potentially revolutionary the responses can be. Strong leadership has the effect that many will follow the guide. But it can have many causes: vision, credibility, power, authority, muscle, size, charisma. If in a few years time we will see less people bent over the displays, also Ahtisaari will walk tall.

Three stages

1. When everybody online knew everything about everybody
The premise. Privacy online? But it doesn't exist, of course. The phrase is by Scott McNealy, then Sun's head, and goes back some 10 years. It was a company vision and an ideological mantra. In the effort to reduce the world to a global village, the web knows down all obstacles in a euphoric pursuit of exchange. It is the zero level of the Internet, with sharing the banner word: everyone wants to know everything about everyone. Having to sacrifice a bit of privacy seems to be the least of problems. This approach finds its triumph in Mark Zuckerberg, the founder of Facebook. Born to trace the "classmates" who are out of sight, the social network soon became a must. You have to be there to be someone.

2. Facebook and Google run for cover
The rethinking. Google's dizzying race turns into an obstacle course. Just a few days ago there were the Street View maps that show the faces of unsuspecting passengers. And they protest. The Mountain View giant decides to suspend the release of his new facial recognition software. It puts limits to Google Buzz, the new social network introduced to connect users directly to their most frequent Gmail contacts. Facebook decides to do the same. It is an attempt to staunch the decline of contacts and members. Social networks discover that privacy has value – not only philosophically, but also economically.

3. No secrets? Only for those who I say
The possible scenario. Social networks are shown for what they are: not a medium in which to cultivate "friendships", but a house without doors and walls of glass. According to calculations made by SearchEngineLand, the number of active users is growing less and less quickly. Possibly because people have sensed this possible two path development: social networks that are restricted to few with a threshold of privacy tends to a minimum, and a broader use of the Web with fewer personal data 'moving around'. This is the direction of the scenario drawn by Marko Ahtisaari: minimal social networks for "real" friends.
Disclosure: Experientia has worked with Marko in the past (while he was at Blyk), and we admire his competence, strategic insights and entrepreneurial approach. So good luck, Marko.
Also, you may want to check this article on the vision presented by Tero Ojanpera, Nokia's Executive Vice President of Services, in London this morning.