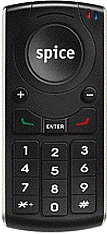 The International Herald Tribune reports on a new very cheap mobile phone for emerging markets:
It looks a bit like a child's toy, a walkie-talkie circa 1975, a cheap plastic throwback to the good old days when telephones were made for talking.

But to Spice Ltd., a telecommunications company in the world's fastest-growing phone market, this new product embodies the latest, greatest innovation in cellphone technology today: a handset priced at less than $20.

Spice, which is based in Noida, India, unveiled what it is branding "the People's Phone" at a wireless industry conference in Barcelona last month. The handset is an anomaly among mobile phones today: The number keys are big and bold. It is chunky and has no color screen – in fact, it has no screen at all. Nothing about it flips, folds or slides. It is, as Spice's chairman, Bhupendra Kumar Modi, described it, "just a phone." […]

And Spice, which is listed on the Bombay Stock Exchange, is not the only company looking at cheap handsets. In Barcelona, Nokia also introduced new "emerging market" models, and LG Electronics and Samsung are moving strongly into the low end as well. Some analysts argue that the most ferocious market share battles this year will take place not among the high-end "smart phone" category but down in the entry-level devices.
No screen? Comments Niti Bhan: "So the poor don't want to send SMS or check the time?".