"thoughtless acts?": observations on intuitive design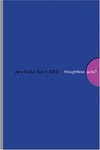 thoughtless acts?
is a book by Jane Fulton Suri and IDEO that invites you to notice the subtle and amusing ways that people react to the world around them. These "thoughtless acts" reveal how people how people behave in a world not always tailored to their needs and demonstrate the kind of real-world observational approach that can inspire designers and anyone involved in creative endeavours.
thoughtlessacts.com allows you to preview the book as well as contribute observations of your own.