Turin, Italy to host first UPA European Regional Conference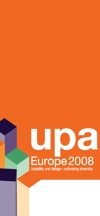 Over 250 participants are expected to attend the
first European regional conference
of the
Usability Professionals' Association
(UPA) next month.
From December 4-6, 2008, the beautiful baroque city of Turin, 2008 World Design Capital, will host the conference, themed "Usability and Design: Cultivating Diversity", with important contributions being made by companies such as Google, IBM, Oracle and many others.
The conference will concentrate on overcoming the traditional professional divide between the concepts of usability and design, with a particular focus on uniting the diverse cultures and practices within Europe: "The UPA Europe conference provides a great opportunity to reinforce the importance of usability and user-centred design in Europe, and will underline the central role of the UPA in advocating these ideas," says Michele Visciola, President of the UPA Italy, and conference chair.
Highlights of the conference will include four keynote speakers. Elizabeth Churchill, principal research scientist at Yahoo! Research; Anxo Cereijo-Roibás, user experience research manager at Vodafone Global; acclaimed designer Isao Hosoe; and Daria Loi, design researcher at Intel Corporation will speak on topics related to five macro-themes: industrial design and usability, cross-cultural design, designing mobile usability, usability and creativity, and managing design in organisations. Downloadable versions of the speakers' presentations will be available online after the conference from www.upaeurope2008.org.
On the final day of the conference, open discussions on the outlook to the future will be held by special interest groups for UPA and UXnet. Inspired by the Slow Food cultural movement, which aims to protect and defend our world's heritage of agricultural biodiversity and gastronomic traditions, European UPA members are invited to bring their own original contributions to the growth of the usability culture and practice.
The Usability Professionals' Association supports usability specialists, people from all aspects of human-centred design, and the broad family of disciplines that create the user experience in promoting the design and development of usable products. The conference is open to both UPA and non UPA members. A detailed program of events and speakers can currently be found online at www.upaeurope2008.org.
The UPA Europe 2008 conference is sponsored by Adage, Amberlight, Apogee, dnx Group, Design for Lucy, Experientia, IUP and UID. Exhibition sponsors are Axure, SR Labs/Tobii, SMI and Noldus.
Late registration is now open: to register, contact conference program manager Cristina Lobnik, email: cristina dot lobnik at upaeurope2008.org, tel. +39 011 8129687.