UNDP Mobile Technologies and Empowerment report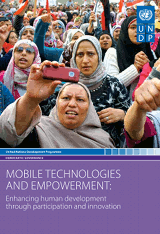 A report, recently published by UNDP, on mobile technologies and human development, "Mobile Technologies and Empowerment: Enhancing Human Development through Participation and Innovation", does a good job of summarizing the many ways in which mobile technologies are being used successfully as tools for stimulating development.
It's intended to provide information and ideas for development practitioners on how mobile technologies and applications can be used appropriately and effectively in international development projects.
The aim is not to employ technology-based solutions as an end in themselves, but rather as the means to achieving desired development outcomes.
– Read review (MobileActive)
– Executive summary
– Download report