Very successful launch of Experientia's Talking Design lecture series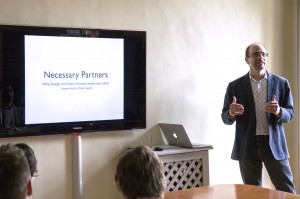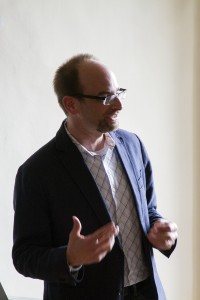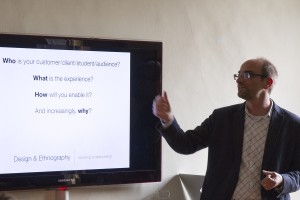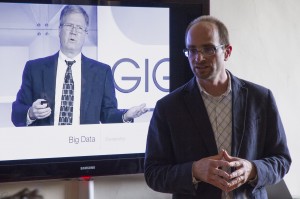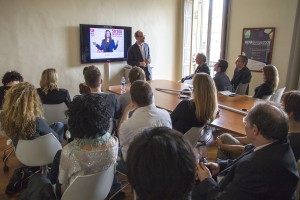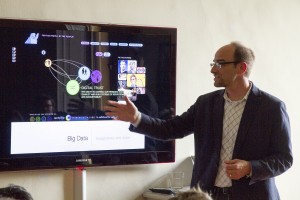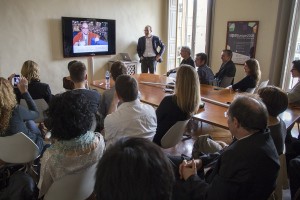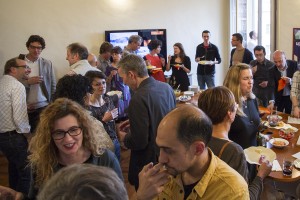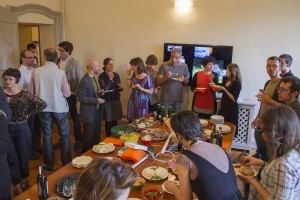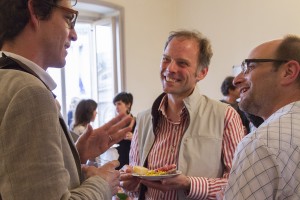 Click on image to view slideshow
On Wednesday evening about 20 guests and 30 Experientia staff maxed out our little conference room to attend our very first Talking Design lecture and listen to Intel anthropologist Todd Harple, who spoke about why design and social sciences need each other, now more than ever (see also links below).
The "Talking Design" guest speaker evenings are part of our drive to bring the design world to Turin. Harple inaugurated what we plan to make a long series of talks from global experts in the industry, who will share their experiences and knowledge with the staff and friends of Experientia.
A good aperitivo afterwards (a much lauded Piedmont tradition!) allowed for informal conversation and networking.
Todd Harple, who has a PhD in anthropology, is an Experience Engineer and Strategist at Intel Corporation, and is currently on sabbatical at the International Training Centre of the ILO in Turin.
We will soon let you know about the second speaker in the series, and the location (which we may have to change, due to the success of our first talk). We also plan to video record the next talk so that we can post the lecture series also online.
Here are the links Todd provided yesterday to some background reading on the topics that he addressed during his talk:
On the heritage of design in craft
Book "Design Methods: Seeds of Human Futures", by J. Christopher Jones

For a great review of ethnography in design and implications:
Article "Implications for Design" by Paul Dourish

See Eric Dishman tell his inspirational story of data and health care as team sport:
TED Talk "Healthcare should be a team sport" by Eric Dishman

Check out CIA's Challenges with Big Data (and notions of ownership):
GigaOM talk "The CIA's Grand Challenges with Big Data" by Ira "Gus" Hunt, CTO of the CIA

Andersen's notion that Big Data heralds The End of Theory discussed last night:
Article "The End of Theory: The Data Deluge Makes the Scientific Method Obsolete" by Chris Anderson

Kate Crawford on The Hidden Biases in Big Data that we discussed last night
Article

Controversy over Google Glass we discussed last night
Article "Google Glass Picks Up Early Signal: Keep Out" by David Streitfeld in The New York Times

Will Google Glass have same effect as Bentham's Panopticon?

Join the discussion about responsibly managing Big Data #wethedata