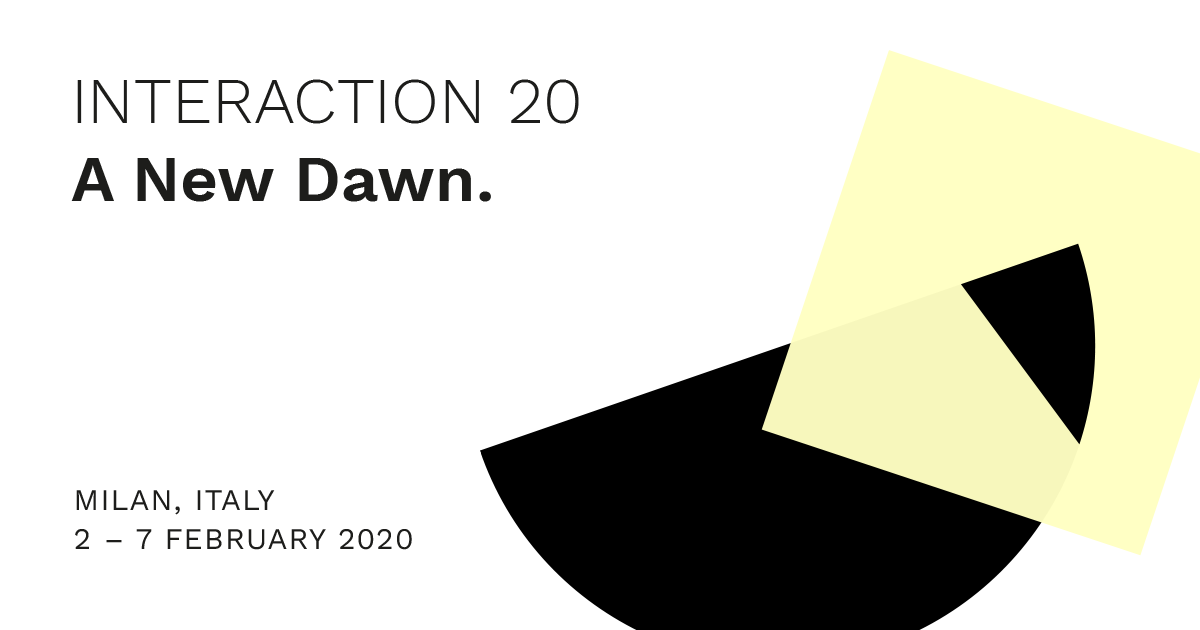 The videos of the Interaction20 conference that took place in Milan early February are starting to become available. 22 are already online, including all of its keynotes.
(Experientia partner Jan-Christoph Zoels was its co-program director.)
Keynotes
The Human Side of Data (description)
By Georgia Lupi, partner Pentagram
Today, data are everywhere. But what do data really mean, and how can we extract real value from them in our daily lives?
Architectures of Trust (description)
By Adeola Enigbokan, University of Amsterdam
Exploring how we can achieve trust in the moment of encounter with the unknown. What is the architecture of a trusting encounter?
How Taiwan achieve SDGs together (description)
By Audrey Tang, Digital Minister of Taiwan
There is a crack in everything, That's how the light gets in.
Plan Z: A case for redesign (description)
By Marco Steinberg, Founder and CEO of Snowcone & Haystack
'Gentlemen, we have run out of money. It's time to start thinking' (Churchill)
(Data) Trust is the New Oil (description)
By Andrew Hoppin, CEO of CoverUS
Redesigning the data economy to optimize for trust
Panel Discussion: Design in Government & Policy (description)
With Andrew Hoppin, Marco Steinberg & Audrey Tang
MVRDV: Creative Transformation (description)
By Jan Knikker, Partner, Strategy & Development at MVRDV
A new dawn needs new cities. MVRDV works on the design of urban environments in response to the climatic, societal and mobility related challenges we are facing.
Digital economy, youth, and women empowerment (description)
By Awa Caba, co-founder and CEO of Soreetul
How to design an effective solution that can impact underserved communities
Design Nonfiction (description)
By Matt Cottam, Founder & Chief Design Officer of Tellart
Transformations in design practice between the Dotcom Crash and the rise of machine intelligence
Breakout on "Futures"
Computer, Stop: Why Star Trek only goes so far and we need to try harder than science fiction (description)
By Dan Hon, expert on technology and its role in society
Even before Minority Report, some of the easiest to reach for concepts in design came from science fiction. Maybe they shouldn't. Here's a few reasons why we need to try harder.
Everything is Someone (description)
By Simone Rebaudengo, partner of oio.studio
Zooming out of human centered thinking and metaphors to design in the age of machine intelligence and autonomous systems.
Planting Seeds – Designing futures in farming (description)
By Simon Drexler, design strategist and consultant
Farming. Futurism. Design. A talk about plant-centric design and how to design for the future of #AgTech.
Breakout on "Artificial Intelligence"
Designing Human-Centered AI Products (description)
By Di Dang & Kristie Fisher, Google
Curious about designing human-centered AI products? Let's walk through a case study of how a Google product team has made design decisions that are people-first. You'll learn frameworks and tips for building your own AI products.
"Smart" is to combine human intuition and AI (description)
By Belmer Negrillo, Facebook
How do we define "Smart" when we have infinite situations and not a clear answer to what is right or wrong? Working with cinema professionals, we found ways to incorporate human intuition to make a video call smart camera "feel" right to people.
Breakout on "Culture"
Trainable User Interface, how products can learn from users through machine learning on the edge (description)
By Massimo Banzi, Arduino
Exploring how to use machine learning on the edge to create products which can learn from users interactions.
Better together: Guidelines for designing Human-AI Interactions (description)
By Ruth Kikin-Gil, Microsoft
Better together: Guidelines for designing Human-AI Interactions. A practitioner's guide to creating useful, usable, desirable, and responsible AI products.
Who are we missing? (description)
By Robert Fabricant, Aika Matemu & Priti Rao, Dalberg Design
Diversity is more than just a buzzword. It is necessary to the future of our practice
Tools for the trek: Equipping community to explore uncharted space (description)
By Dave Hora & Tomomi Sasaki
How do you engage community to explore the unknown together? Over 60 organizers hosted workshops with 500 researchers & designers around the world to chart the edges of a growing design discipline.
Unlocking Open Source Design, for all of humanity (description)
By Eriol Fox, Thomas Kueber & Andre Jay Meissner
Designers involvement in how tech is built for humans is directly linked to its success. So what is it about Open Source Software that hasn't caught on yet?
Im/material Practice: decolonizing design with big beaded earrings (description)
By Roan Reimer, UX Design Fellow with Code For Canada
Decolonization is still taking root in design, and it doesn't have to be a series of grand movements.
Breakout on "Governance"
Embracing complexity (description)
By Sami Niemelä, founder and creative director at Nordkapp
Our craft is entering a new golden age where we instead of pixels look into things such into futures, strategy, organisations and capability development. This new age requires new tools and approaches, and paradoxically, letting go.
Digital Sjølråderett – A Nordic model for designing the digital shift (description)
By Einar Martinussen, Associate Professor at the Oslo School of Architecture and Design
What is at stake when global digitalisation trends meets the social democratic welfare states of the Nordics? How can design be used to govern social sustainability and societal values of trust, equity, and collective rights and ownership? Could there a Nordic model for digital design that challenges Silicon Valley's hegemony?