Welcome to the new dollhouse [The New York Times]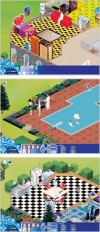 As far as we know, children have always played with dolls of one sort or another to act out variations on their own lives, or lives they observe or imagine. Today, a vast and growing number of kids are doing the same thing — but with a very new tool. Instead of dolls, they are using video games. And perhaps most of all, they're using The Sims.
Some video games let players battle aliens or quarterback a pro football team; The Sims drops the player into an even more fantastic environment: suburban family life. Each Sim, as the characters are known, is different — one might be an old man, one might be a young girl; one is motivated primarily by money, for instance, while another may want popularity — and it's up to the player to tend to those needs. As in real life, there are no points in The Sims and you can't "win." You just try to find happiness as best you can.
And though video game players are often stereotyped as grunged-out, desensitized slackers, it is the nation's middle-class schoolchildren, particularly girls, who have helped make The Sims one of the world's premier game franchises, selling more than 60 million copies globally since its introduction in 2000.
Among psychologists and education experts, it is widely accepted that playing with dolls is a safe and perhaps even essential part of self-discovery and growing up for many children, especially girls. Now, some of those experts are catching on to how quickly video games are moving into the territory formerly dominated by a slim blonde named Barbie.
"It's not that surprising when you look at the game," said James Paul Gee, an education professor at the University of Wisconsin who directs a program that studies the intersection of learning and gaming among both adults and children. "It's a great resource for them to design and think about relationships and social spaces."