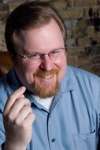 Programmer
Michael Nygard
thinks that the quality about some software that inspires love in their users, is totally devoid in enterprise software.
"The best you can ever say about enterprise software is when it doesn't get in the way of the business. At it's worst, enterprise software creates more work than it automates."
He argues that argues that there are exactly four reasons that internal corporate systems are so unloved and unlovable, and I write them down here with the more catchy rewording of Matt Asay on CNet News:
"They serve their corporate overlords, not their users." This is one of the problems I have with IBM software: it seems to be written for the CIO, not the people that actually work at the CIO's company. In other words, powerful central administration with end-user ease of use is forgotten. (Not that IBM is alone in this–it's just that I'm having flashbacks right now to when I was forced to use Lotus Notes.)

"They only do gray-suited, stolidly conservative things." Simply put, enterprises too often get stuck in the mind-set that they employ a bunch of drones whose work consists of filling out expense reports. The real work is the creative interaction between employees, but it's the consumer Internet that has been tackling this problem, even though enterprise IT could most benefit from it.

"They have captive audiences." Nygard doesn't offer much explanation here, but I take it to mean that enterprise software developers can get away with foisting lame software on the world because the competitive bar is so low. "Our piece-of-junk ERP system is not quite as junky as our competition's" seems to be the winning argument.

"They lack 'give-a-shitness' ." Nygard identifies this as the most important characteristic: the love a developer has for her software and its application, and thus the time she spends making it sing. This hearkens back to the previous principles, however, in that it captures the apathy enterprise software developers may have for their products because they're writing for CIOs and cash, not users and public plaudits.
(via CNet News)