Five new experience design-related interviews by Adaptive Path

The American experience design consultancy
Adaptive Path
has posted five interviews on its website that are worth checking out. All interviewees are speakers at Adaptive Path's upcoming
UX Week
, a four-day conference introduces user experience practitioners to new rich internet application design approaches, practical prototyping techniques, effective cross-organization communications strategies and more.
Note that for some reason the accompanying photos on the Adaptive Path website portray the interviewers, not the interviewees – an error I tried to correct here (although I couldn't find a photo of Barbara Ballard).


What's new in participatory design with Liz Sanders
Liz Sanders (UX Week conference page) is the president of MakeTools, a design research company that focuses on collaborative creativity about the participatory process and it's impact on design. Liz has worked across a variety of mediums, including interactive/web, industrial design and architecture.
"What we're doing in participatory design is involving the people who we're serving through design as participants in the process. We're involving them in as co-creators of the whole process. If you don't believe people are creative, then you really can't do this."


Discussing ClearRX with Deborah Adler
A recent story, that's quickly becoming a classic, is the origin and design of the [American] Target pill bottle and the surrounding ClearRX system. It's an inspiring and instructive story about the power of design to impact business and to change people's lives. In this interview Deborah Adler (UX Week conference page), designer of the ClearRX pill bottle, discusses her experience.
"At the time, I was coming up with my thesis and my grandmother accidentally took my grandfather's medicine; they were both prescribed the same drug, but just different dosage strengths. When I looked in their medicine cabinet, I wasn't at all surprised by their befuddlement because it turned out that their package was practically identical."


Ziba's Bill DeRouchey on interaction design in the field
Bill DeRouchey (blog), an interaction designer at Ziba Design in Portland, Oregon, discusses how you can learn interaction design from everyday objects.
"Industrial designers approach things quite differently than people who are designing for on screen. Just the amount of sketches, comps, and exploration that they do — they take nothing for granted for the first full phase of the project. I definitely think that I came to this approach [from my background in] an industrial design environment. Thinking about things like zoning, hierarchies, and priorities a little bit more."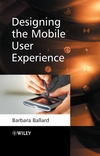 Barbara Ballard on the mobile space
Barbara Ballard, president of Little Springs Design and author of Designing the Mobile User Experience, talks about her thoughts on designing for the mobile space.
"The mobile phone is the one device that is going to be in your pocket. It's going to be carried with you all the time. This has a number of fairly obvious implications for limitations of the device and I'm not talking about right now, I'm talking about structurally long-term"


Karon Weber and Bill Scott talking about Yahoo! Teachers
Karon Weber, principal designer at Yahoo!, and Bill Scott (blog), AJAX evangelist at Yahoo!, talk about their work on the upcoming release of Yahoo! Teachers.
"I think that both Bill and I believe deeply in participatory design, and we come out of a world where you have a troika between end users, designers, and engineering. This was actually a perfect use case from that standpoint, where we had the prowess of Yahoo! engineering, Yahoo! designers, and then this community of teachers who knew what they wanted. So this notion that we could build things by teachers, for teachers, was really how we approached the project."