Former Experientia intern, designer on Pentagram Design project that just won prestigious IDEA award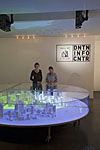 Former Experientia intern
Nina Boesch
was the designer and programmer (under the creative lead of Lisa Strausfeld) on
Pentagram Design
's "
Interactive model of Lower Manhattan
" that just won an
Industrial Design Excellence Award
.
Co-sponsored by BusinessWeek magazine and the Industrial Designers Society of America, the Industrial Design Excellence Awards recognise the best product designs of the year.
This interactive architectural model of Lower Manhattan is the visual and educational centerpiece of Wall Street Rising's new Downtown Information Center. It provides information about the area's history, points of interest and events. The model also serves as a communal space that visitors and residents can gather around, fostering a sense of community. A gyro-mouse is used to navigate and highlight streets, buildings and other sites, and information about the selections is projected onto the model. In addition to practical information, there are also eight short historical documentaries about the area.
Nina Boesch was born in 1978 in Bremen, Germany. She studied at the Hochschule für Künste in Bremen, Germany (where also current Experientia collaborator Marion Fröhlich graduated from) and at the Rhode Island School of Design (where Experientia partner Jan-Christoph Zoels studied and taught and two other current Experientia interns – Laura Cunningham and Young-Eun Han – graduated from).
Last year Boesch won the 2006 Adobe Design Achievement Award in the category "interactive media" with her RISD thesis project "Manhattan Dissected", an interactive application based on a subjectively viewed Manhattan. She started working for the New York Pentagram office after her graduation in 2006.
Janina was an Experientia intern in January-February 2006 and worked on several projects, including the design of this blog.