Germany wants to become world leader in design for the elderly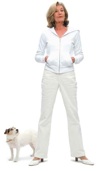 The German government just announced a high level initiative for universal and transgenerational design to archive world leadership in the production of innovative products for the elderly including innovation strategies, product and service development, design school projects, and a universal design network.
As stated on the website of the German Ministry of Family, Senior Citizens, Women and Youth, the aim is to enlarge the potential that senior citizens can provide to the economy, by developing new products and services for the elderly, which in turn can secure existing jobs and create new ones, and by making companies (in construction, interior design, technology, information design, tourism, etc.) aware of the enormous opportunities by this future trend and supporting them with new ideas.
A press release dated 23 April 2008, gives more detail about the initiatives planned:
Companies, experts and organisations for senior citizens and consumers will be able to constantly exchange experiences and ideas on a new national platform, with the aim of creating a stronger integration of the expertise of the elderly, and therefore better products, that will be useful and pleasant for all generations.

Small and medium size companies will be made aware of the opportunities of the senior citizen market through regional cross-sector workshops and forums;

To increase the number of new companies founded by senior citizens, they will offered customised information and training opportunities in collaboration with the Chambers of Commerce and the public institutions;

A collection of "best practice" examples of promising business ideas will provide senior citizens with good ideas and encourage to make the jump towards independence.

Germany will become the leader in "trans-generational" design.

A competence network on "universal design" gathers information and knowledge with regards to product development;

Design competitions in educational institutions will provide inspiration for the type of products and packaging that are attractive and usable by people of any age group;

A travelling exhibition aimed at the public at large will show particularly successful examples of products and ideas that transcend the generations.

Older consumers will more easily find products and services that are based on their needs and requirements.

The German Government is investigating whether a quality label for age inclusive products can provide support to the elderly during shopping, and can stimulate the development of theses types of products;

Information materials, such as checklists, will make it easier for senior consumers to find the useful products and services within the market offering.
The initiative will initially run until 2010.
Here are some other German language links:
– Wirtschaftskraft Alter (project site)
– Project backgrounder (pdf, 12 pages)
– Design competition "Von Kopf bis Fuß" [From head to toe]