Richard Florida on technology, talent and tolerance [AlterNet]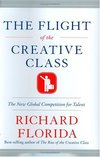 When Richard Florida published his upbeat
Rise of the Creative Class
in 2002, he became the instant darling of progressives everywhere. What's not to like about a man who says diversity, tolerance, and a vibrant cultural life are required ingredients for economic success?
Florida's latest offering, The Flight of the Creative Class: The New Global Competition for Talent offers a grimmer and more nuanced vision of both America and the world.
This Richard Florida is worried. For one, he fears that the nation's turn to the right — hostility to foreigners, widening income divide, social conservatism — endangers the single most important source of U.S. power: its ability to attract global talent. But even when he looks beyond the borders, Florida finds other reasons to worry. Unlike Thomas Friedman, he see the dark side of the global creative economy, whose tendency to concentrate economic wealth must be recognised and controlled for the greater good. The same thriving cities, brimming with talent and ingenuity can easily turn into creative ghettoes that increasingly exclude greater parts of humanity.
(via CPH127)