The city as interface. Digital media and the urban public sphere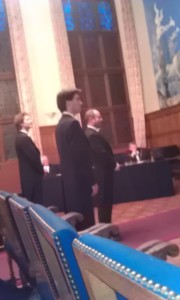 On 23 January 2012, Martijn de Waal defended his Ph.D. thesis 'The city as interface' at the Philosophy Department of the University of Groningen.
Abstract:
The main concern of the study 'The City as Interface' is the future of the urban public sphere. It investigates various scenarios that describe how the rise of digital and mobile media technologies, such as the mobile phone, GPS-navigation, and the usage of social networks through smartphones, change the way the urban public sphere functions.
Most studies on the urban public sphere have so far theorized it as a spatial construct, a physical place for encounter and social interaction. Yet, such a purely spatial approach has become problematic now that new media technologies, from the mobile phone to urban sensor networks, have started to play an important role in the experience and organization of everyday urban life. The experience of the city has become extended by media technologies that bring absent others or distant (either in time and space) contexts into the here-and-now. The infrastructure of these new technologies and the way they are programmed now co-shape urban life, just like the physical infrastructures and the spatial programming of urban planning have always done.
This may lead to two different (non-exclusive) scenarios that enforce a broader trend in which people sort themselves out geographically, that is: people are more and more keeping in touch with people who share a similar identity or particular goal. Citizens may use digital media as 'filters' that allows them to find the spaces where they are likely to meet people who are similar to them. Institutions may use these same technologies to target particular audiences and make places more attractive to them, or even to exclude access to those who do not belong.
A second scenario also builds upon a broader geographic trend that has been called 'Living Together Apart.' This is a development in which various urban publics live in and use the same geographic areas, but do not interact much. An example is found in the former working class turned migrant quarters near European inner cities that have become gentrified over the last decades. Local working class people, young professionals and migrants share the same neighborhood. A Turkish coffee house might be located next to a designer coffee bar. They are geographically close, but are separated by a large symbolic distance. The filtering mechanisms of mobile media could enforce this scenario. The chaotic experience of all those different worlds on top of each other becomes 'navigable' and 'inhabitable' through the use of urban media that help users locate those microvariations in space that are relevant to them.
That, however, is only one part of my findings. Urban media also have the affordance to create a public sphere in new ways. Urban media can create a new type of platform that can bring forth collective issues around which publics can organize. Data from various sensor networks can be mapped to, for instance, show the air quality or energy use of a city. These mappings can become a condensation point around which publics start to organize themselves. In addition, the use of urban media can be used to make individual contributions to such communal issues visible. This could mean that it becomes easier to turn resources into a 'commons', a communally used and managed resource. First examples of these are the bike and car sharing schemes that have sprung up in various cities around the world. There is a chance that the communal use and management of these practical collective issues could lead to the formation of publics around these issues that bring together people from various backgrounds. I have shown how 'open data' initiatives could perhaps play a similar role. These too could create new platforms on which urban publics can form.
At the same time I have also argued that the introduction of a new platform by itself is not enough for a public realm to come into being. To function as a public realm, platforms need a program that provide one or more functions that will attract citizens from various backgrounds. This is true for physical spaces as well as for urban media platforms. Studies have shown that digital platforms can enhance the sense of a local community or public in a particular neighborhood, but that this does not happen by itself.
(via SmartMobs)