Video interviews on the history of design between the Dotcom Crash and the rise of machine intelligence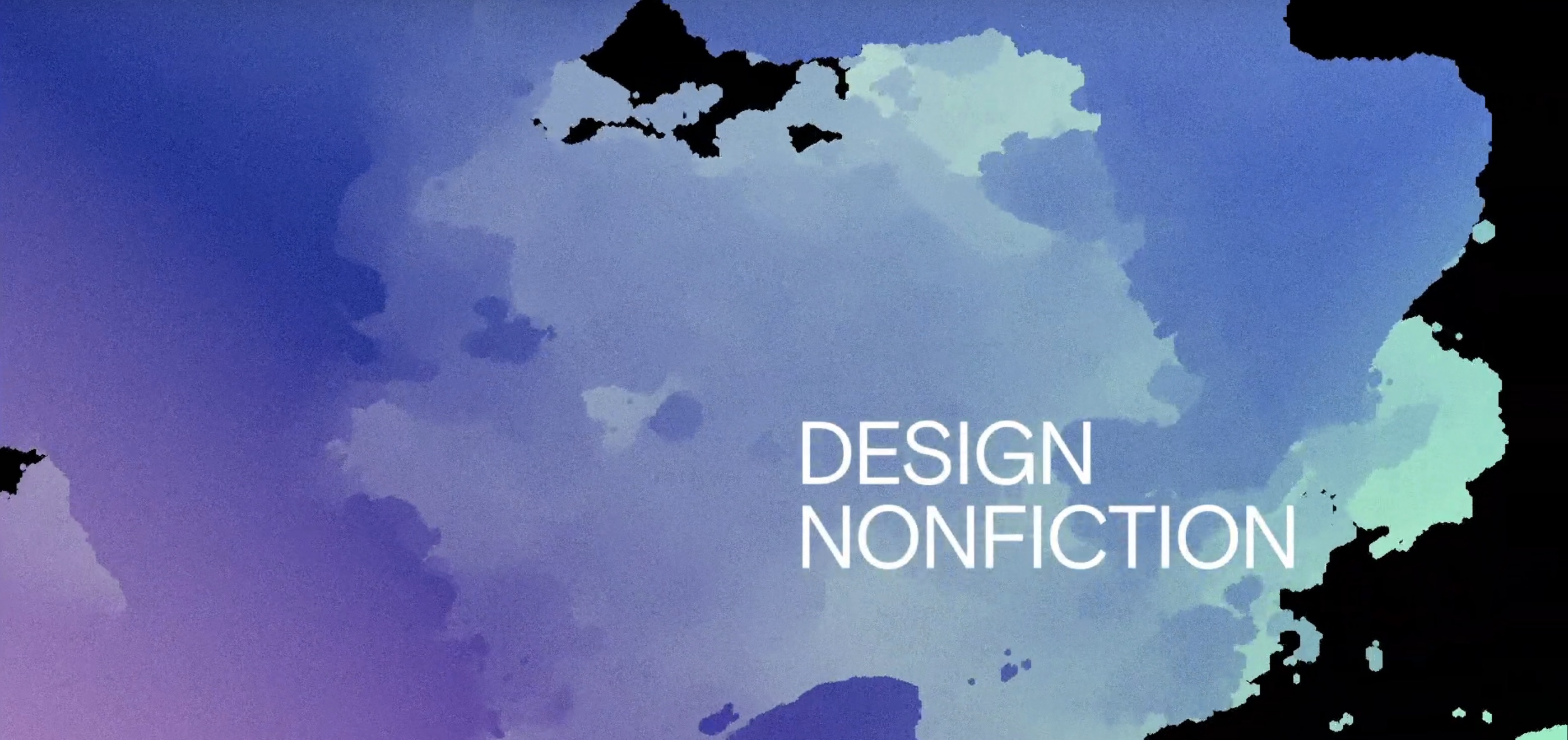 As technology becomes more complex and opaque, how will we as designers understand its potential, do hands-on work, translate it into forms people can understand and use, and lead meaningful conversations with manufacturers and policymakers about its downstream implications? We are entering a new technology landscape shaped by artificial intelligence, advanced robotics and synthetic biology.
Historically, design has transformed and generated new disciplines during times of fast technological change. Through conversations led by Tellart, this project explores and documents transformations in design between the Dotcom Crash and the rise of machine intelligence. Through reflections on key projects from this period and interviews with a community of today's top design practitioners, Design Nonfiction explores the future of design practice. It emphasises the timeless need to make the invisible visible and the immaterial tangible, in order to sketch and build with emerging technologies.
They have created four compilation videos that feature all the people mentioned below:
Full interviews currently online:
Kevin Slavin, MIT Media Lab
Molly Wright Steenson Ph.D., Carnegie Mellon University
Alexandra Daisy Ginsberg Ph.D., Studio Alexandra Daisy Ginsberg
Rory Hyde Ph.D., Victoria & Albert Museum
Aaron Koblin, Within
Matt Jones, Google AI
Casey Reas, Processing
Rosanne Somerson, Rhode Island School of Design
Zach Lieberman, openFrameworks
Heather Dewey-Hagborg Ph.D., Bio-hacker
Bill Verplank Ph.D, Stanford University
Simona Maschi Ph.D, Copenhagen Institute of Interaction Design
Robin McNicholas & Ersin Han Ersin, Marshmallow Laser Feast
Theo Watson & Emily Gobeille, openFrameworks & Design IO
Claire L. Evans, author
In 2020 Tellart will make full interviews available with:
Timo Arnall Ph.D, Playdeo
Matt Ward, Goldsmiths, University of London
David Rose, MIT Enchanted Objects
Zaza Zuilhof, Tellart
Gillian Crampton Smith & Philip Tabor Ph.D., Interaction Design Institute Ivrea & Iuav University of Venice
Stuart Candy Ph.D., School of Design at Carnegie Mellon University
Anab Jain & Jon Ardern, Superflux
James Bridle, artist
Golan Levin, Carnegie Mellon University
Mike Kuniavsky, PARC
Jan-Christoph Zoels, Experientia
Dan Hill, Arup
Jack Schulze, Playdeo
Einar Sneve Martinussen Ph.D., Oslo School of Architecture and Design
Tom Igoe & Dan O'Sullivan, NYU ITP
Euro Beinat Ph.D., Naspers Limited
Sabrina Verhage, Creative Coding Amsterdam Tellart
Nicholas Felton, Feltron
Mimi Son & Elliot Woods, Kimchi and Chips
Fabien Girardin Ph.D., Near Future Laboratory
Regina Bittner Ph.D., Bauhaus Dessau Foundation
Lavrans Løvlie, LiveWork
Scott Smith, Changeist
Matt Cottam & Nick Scappaticci, Tellart
James George, Alexander Porter & Yasmin Elayat, Scatter
Dave Gray, XPLANE
Wendy Ju Ph.D., Cornell Tech
Nicolas Nova Ph.D., Near Future Laboratory
Maia Garau Ph.D., Tellart
Julian Bleecker Ph.D., Near Future Laboratory
Durrell Bishop, Line-us
Alexander Chen, Google Creative Lab
Tea Uglow, Google Creative Lab
Ben Cerveny, The Foundation for Public Code
Matt Cottam & Jan-Christoph Zoels, Tellart & Experientia
Design Nonfiction is funded and produced independently by Tellart. The video media are available for free download and distribution through the Creative Commons Attribution-NonCommercial-NoDerivatives 4.0 license.