Yrjö Sotamaa on Helsinki's new Innovation University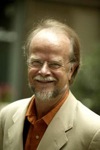 I recently interviewed Prof. Yrjö Sotamaa, President of the University of Art and Design Helsinki.
Sotamaa is the man behind the initiative to start a new Innovation University in Finland, by bringing together three Finnish top universities: the University of Art and Design Helsinki (TAIK), the Helsinki University of Technology (TKK), and the Helsinki School of Economics (HSE).
The goal for the new university, due to start in August 2009, is to be one of the leading institutions in the world in terms of research and education in the field of technology, business studies and art and design.
The initiative is a much bigger and ambitious version of a general multidisciplinary approach that is currently also being implemented in some other major centres of education. Design-London at RCA-Imperial will create an 'innovation triangle' between design (represented by the Royal College of Art), engineering and technology (represented by Imperial College Faculty of Engineering), and the business of innovation (represented by Imperial's Tanaka Business School). Carnegie Mellon University puts design, engineering, and business students into teams to work on projects. And the University of Toronto's Rotman School of Management pairs MBAs with design students in product development classes.
Classes for the 22,000 students will be in English, in order to attract students from all over the world (many of whom might end up working again for that famous Finnish multinational, Nokia, who is one of the sponsors of the initiative).
What is interesting too, is their radical choice for a human-centred, multidisciplinary, and prototyping approach.