European Market Research Event – Day 2, afternoon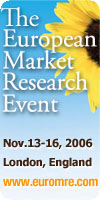 Mike Spang, Kodak
Mike Spang has the long job title: "Business Research Director, Document Imaging, Corporate Business Research, Eastman Kodak Company". He spoke about how Kodak went about creating a satisfying global corporate web experience.
To put it in somewhat of a context, about five years ago Kodak had to rapidly reinvent itself as a digital camera company, and so the website had to also change from a portal for photography to a portal for digital imaging, with 80 percent of the web visitors being regular consumers.
The website also had to provide people with an experience beyond just camera purchasing. As one can read in an article in Business Week that was just published, CEO Antonio M. Perez "aims to make Kodak do for photos what Apple does for music: help people to organise and manage their personal libraries of images. He's developing a slew of new digital photo services for consumers that he expects to yield higher returns."
Spang described how Kodak through a clever use of user-centred design and a wide range of usability methods, was able to reinvent its web site, make it truly global and incorporate input from users worldwide.
The techniques used included open ended site surveys, heuristic evaluation, focus groups, cognitive walkthroughs, card sorting, usability testing (in lab, remote, web-based), visitor satisfaction assessments, multivariate design testing, and web traffic analysis.
Since there are more than 50 different national versions of the site, the research took place in the UK, Germany, France, China, South Korea and the United States.
Download presentation (pdf, 2.8 mb, 44 slides)
Emmi Kuussikko, Sulake Corporation
Emmi Kuussikko is a research manager with particular responsibilities for market and user insight at the Sulake Corporation, an interactive entertainment company based in Finland. Sulake is responsible for Habbo Hotel.
Habbo is one of the largest teen online communities in 29 different countries. It is a virtual world for young people, a massively multiplayer online game where teenagers create their own personalised virtual characters and interact with other characters in the community. It has 7 million unique users monthly, mainly in the 13 to 16 year old age range, and over 60 million characters have been created globally.
Since it is the community that creates a truly unique gaming environment and a great deal of the changing content is created by the users themselves, they strongly feel they own the brand and the Sulake Corporation just manages it with them.
Research in this online environment is of course also done online. The user base is very loyal and they are very eager to participate in surveys. So actual data collection is very fast. A survey can collect over 40,000 answers in just a few days.
Here are some of the results from a recent survey done globally.
Most teens spend more time on the internet (>90%) than TV (~60 %). Mobile usage is mainly used for text messages, followed by camera use and game playing. One third listen to music on the mobile phone, especially in the UK and Italy. Teens mostly use the web to stay in contact with their friends: IM and email. Then come games. The research provides also a more detailed insight into youth characteristics regarding life style and values:
No 1 value: having warm social relationships with friends and family; no 2 value was having fun, and no 3 was security
Many are rather conservative in their values
Fame, wealth and influence are important to about half
They generally have a very positive self-image
They endorse a socially responsible world-view
Even thought most claim to be tolerant, many have negative attitudes toward minorities. But they would like to have friends from other countries.
Kuusikko's presentation started to become really interesting when she presented user segments, and the spread of these segments by country.
The user segmentation was based on a cluster-factor analysis. Trying to create maximum divergence between groups and minimum within, provided an accurate and reliable method for identifying groups with similar characteristics. The variables examined were personality, values, attitudes, subculture membership, areas of interest.
Five user types were found: achievers, traditionals, creatives, rebels and loners.
Sulake also uses a more selective community of 200 users to generate, co-create and test new ideas in a continuous and open dialogue.
I hope to be able to add a download to Kuusikko's presentation shortly.
Mehmood Khan, Unilever
Mehmood Khan is the eccentric thinker who is the Global Leader of Innovation Process Development at Unilever.
Unilever's mission is to "add vitality to life". It manages 400 brands spanning 14 categories of home, personal care and foods products "that help people look good, feel good and get more out of life".
Khan has been with Unilever since 1982 and has worked in wide areas of the business: marketing, exports, procurement, business development and innovation. He has been pioneering new business for Unilever in places like Vietnam, Cambodia, Laos, Mongolia and North Korea, along with developing new portfolios in China and other countries in East Asia.
In his presentation, entitled "A holistic approach to innovation", Khan described the key features of Unilever innovation.
According to Khan, innovation is about turning creativity in a successful enterprise. At Unilever innovation is customer-focused which allows the company to keep its brands connected to people's lives. The innovation learnings and in particular the customer focus have also shaped the vitality brand strategy.
Download presentation (pdf, 136 kb, 17 slides)