Medical advice just a touch away with smartphone apps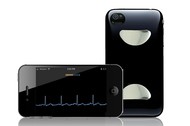 Devices once only in the hands of doctors, such as heart or blood pressure monitors, are now in the pockets of consumers, putting them in charge of their health and making medical care more accessible. Consumers are also increasingly armed with "wellness" apps — simpler devices to monitor diets, exercise and weight to help them stay out of the doctor's office — that make up most of the 97,000 health related mobile-apps available.
Out of a score of 100, more than 90 percent of apps received a functionality score of 40 or less. In other words, consumers don't find most apps all that useful.